No flying to report. Andre is out of the country for a week. Lucky git!
Well, my trusty giraffe (5ft) unicycle (picture) has now been sold on e-bay. It was bought by Pete Todd of Aberystwyth, Wales (his web site: Heraclion). I hope it gets lots of use Pete, and thanks for buying it. Just be careful to dismount forwards or backwards only. Falling sideways is not fun! I have sold an awesome total of two DVDs now and I can report that the PayPal payment system is working fine. I should have figured it out a long time ago, but I never got around to doing it until recently.
Michel Brassard wins the most frequent visitor of the week award. He has a plane for sale if anyone's interested.
Plane for sale!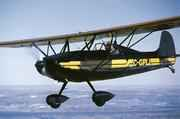 This is a rough translation from French...
Description: Plane 2 places opened cockpit, train conventionel. Engine 0-235 Lycoming 115h.p.120 m.p.h., decrochage 53 m.p.h. very flexible and very powerful also for limited acrobatics . skis and closed cabinee (canopy) for winter available. Complete history. Engine 1900 hours out of 2400 tbo. Cyl. 800 hours soh.entretenez same being itself a construction amateur.Consumes 20 litres of super or 100LL pel hour. True HotRod. Will be in storage from mid Nov.. Sells or exchange against Porsche 911 of same value. Cause sale: The baby between step inside. Just 2 places, not 3 A to see on www.bakengdeuce.com
Nothing else of consequence this week.