In-flight filming


I get several e-mails a month asking me about in-flight filming, so I thought I would produce a series of articles describing what I use and what techniques I employ as well as where to look on the internet for additional advice and guidance.
This first article deals with the equipment needed for the `enthusiastic amateur`.


Enthusiastic Amateur - Equipment List
Camera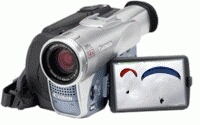 The first thing you will need is a camcorder that allows you to easily transfer the video to your PC for editing. No ifs, no buts, it has to be mini DV. Any other format simply does not cut the mustard these days! If you already own another format do not dispare you can still edit your masterpiece (with some added hassle), but if you are starting from scratch it has to be mini DV.

Mini DV cameras all support firewire, the lead that plugs into your PC so you can download the footage, more about this later.
AV-in is necessary if you want to plug in any remote cameras (bullet/lipstick or micro) You will also want a camera that has a `hot shoe` for an external microphone. In-camera microphones are usually pretty shabby.
Many other features of modern camcorders are simply gimmicks. Ignore all in-camera editing functionality and any titles/effects. This is all best left to the editing stage on your PC. Digital zoom? Ignore it completely. This is a marketing term that means nothing. Optical zoom of 10+ is good. More than this is a bonus, but often not needed (or useful).
The smaller the camcorder, the better. You are more likely to take it with you and use it if it is small. Bulky cameras with lots of features will become awkward when flying. Trust me on this one.
(A word of warning: There are two main video standards, PAL and NTSC. If you are buying at your local store you need not worry about this, but if you are buying over the internet you will need to make sure that you buy the correct version for your region. Broadly speaking, PAL is Europian and NTSC is American (there are others..). Google `PAL NTSC` for more info)

Tripod
You will of course, be filming all sorts of interesting footage to edit together with your flying footage so you will need a nice fluid filled tripod to get smooth shots. Other cheaper tripods are ok if you never intend to move the camera when filming.

Paul Zen:
`A videographers best friend is a bag of rice. Obviously for land based shooting. I use an old sock with a few handfulls of rice. Great to sit your camera on a post or any solid surface and have it immobile.`

Bullet Camera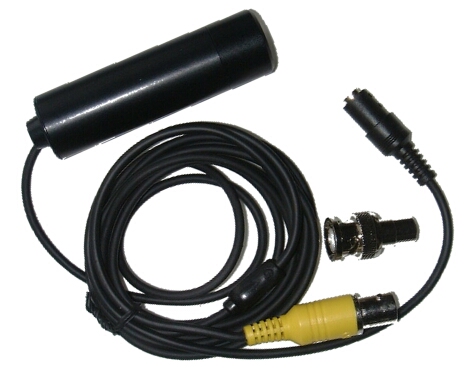 Otherwise known as a helmet camera or lipstick camera, this is a `must have` piece of kit for those wishing to film in-flight video. The resolution will be slightly less than that of your camcorder, but it will enable you to get shots that would otherwise require bulky camera mounts and lots of engineering. You should buy a bullet camera that operates the same video standard as your camcorder (PAL or NTSC). I bought mine from RFConcepts. It came with a microphone and all the leads I needed. I would buy from them again.


Additional Bullet Camera Lenses
Wide angle lenses help get shots like these: 72 Mb version or 18 Mb version. When using a bullet camera to film, it is useful to have a selection of lenses to choose from. A wide angle lens fits a lot of scene onto your TV (distorting it slightly). This is useful if you want to get a shot of the wing and yourself without using a two metre pole.

Microphone
This is on my Xmas list! After battling with poor sound for a while I have finally decided it is time for a new microphone. Remember, not all camcorders can be fitted with an external microphone, so check before you buy.

Lots of mini DV tapes!
These are reasonably cheap, so you will want a large supply so that you never run out. I have heard it said that you should buy the same brand as your camcorder. I buy whatever is cheapest. I have had no problems so far. Mini DV tapes can record NTSC and PAL, so there is no need to worry about which TV standard you are using.

Huge Spare Battery and extra charger
There is nothing more frustrating than being at the right place at the right time with spectacular views/action and a dead battery! You know it makes sense, so get the longest lasting battery you can afford. There are many companies selling batteries that fit all kinds of brands. They are usually far cheaper than the manufacturers` versions. A separate charger is very useful since you can still use your camera.

Computer
Most modern PCs will not struggle with video editing. You will need something that is reasonably fast (processor speed) with a fair amount of RAM (`thinking` memory). The hard drive is not much of an issue since external hard drives can be added very easily.

External Hard Drive
Video editing eats memory! A wise investment is the biggest hard drive you can afford. I have two external hard drives, giving me 400Gb of memory in total, but 80Gb would be sufficient for most people. The advantage of external hard drives over internal hard drives is that of portability. You should get a hard drive with a firewire connection. It will be much better for capturing footage and will not `drop frames` – that is it will be able to cope with the speed at which data is being sent. No frames will get lost in the transfer> USB 2 has issues with this and should be avoided for video capturing.

Firewire connectivity
You will need firewire connectivity. Firewire describes a type of lead that connects PCs and camcorders. The connectors at the end of the firewire can be of different types, usually 4 pin or 6 pin. I recommend getting a firewire with interchangeable connectors at each end. This is equivalent to having three wires, but cheaper.

4 pin to 4 pin (camcorder to laptop)
4 pin to 6 pin (camcorder to PC)
6 pin to 6 pin (PC to PC)

Some PCs come with firewire connections; most do not, however. Firewire was designed to allow easy transfer of data from camcorder to PC. USB 2 is not the same thing and it is not up to the task. You may need to get firewire connections added to your PC. It is fairly easy to do, but does require opening up your PC (turn it off first dudes!!). This is something a computer shop will do for you if you want to keep your warranty intact.

Editing Software
Here is the good news: Windows Movie Maker comes free with Windows XP. It is a basic editing program that allows complete novices to create their first masterpieces with relative ease. It lacks many of the powerful functionality of `high end` software such as Adobe Premiere Pro, but offers a good introductory level program that is very intuitive.

Odds and Sods
Things I have found useful when improvising camera mounts.

Velcro
Electrical tape
Carbon fibre fishing poles
Coat hangers!!

Camera mounts need to be light and small. I have tried taking off with a two metre pole sticking out of my harness (Pole Cam at Saleve) and will not be trying it again! Think compact. There are many ways to mount a bullet camera. One of the most popular (and least effective) is to helmet mount it. More about this in the next article.