British Club Competition - 6th April 2007 - View the entire paragliding news archive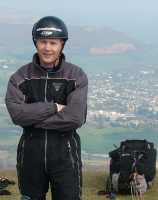 'Conditions for the British Club Competition were sunny and clear, but with a light north easterly breeze and an inversion, height gain was difficult. Chris White managed 36km from the Blorenge on Saturday and Tim overflew him so the SEWHGPG club had atleast a couple of good scorers with Terry also doing well. Andy Brazier managed 32km from Merthyr on Sunday but I don't know about anyone else today as I'm back in London with Stephanie to avoid the traffic. I didn't take part in the competition as I was taking the weekend to show Stephanie around Abergavenny and just wanted to have some recreational flying. I got to fly Friday and Saturday though so that blew away some cob-webs.

I did make a really stupid and potentially dangerous mistake too! I side-landed during a lull and then unclipped my leg straps to make climbing back up easier. I felt a breeze coming indicating a thermal cycle starting so I hurredly launched...without clipping my leg straps! Oops, I was ok but only just got into my seat in time! I flew straight and clipped in and then landed in the bomb-out field!

Hanglider prepares to launch at The Blorenge, Abergavenny, Wales



Fully commited!



Look carefully and you will see some paragliders over the Blorenge - one heading for the pub!



Cheryl (kiwi) gliding over the bridge and heading for Castle Meadows and a pint at THe Bridge Inn in Abergavenny, Wales



Paraliders at Castle Meadows viewed from the pub (The Bridge Inn)



Andy and Cheryl head back from the landing field ready for a pint.



Paragliders over The Blorenge, ready to compete in the British Club Competition (BCC) - Photo by Stephanie Chisholm



Hangglider making an approach to land at the pub



The rest - various numpty shots of me taken by Stephanie.

























(Back to top) OR - - View the entire paragliding and powered paragliding news archive
The content of this site is © Mark Andrews 2005-12, mandrews1973@gmail.com