Electric Paramotor FAQ - 23rd June 2006 - View the entire paragliding news archive
Electric Paramotor FAQ

Related articles:- Electric Paramotor! |Electric PPG answers | Electric Future? | Electric Paramotor FAQ

Videos:- Electric Paramotor - teaser! | Electric PPG in flight | Csaba talks about his electric PPG


The first sustained flight of an electric paramotor, earlier this month, could herald a new era in sport aviation. This is the future of powered paragliding.
How long can it fly?
Currently flight times on a single charge have been around 35 minutes, although it is expected that the batteries could run for longer. All flights are being conducted for testing purposes only, at the moment. Every flight allows valuable data to be collected.

Is it noisy?
The present machine is just a test bed to allow the battery and motor configuration to be optimsed. It is less noisy than a two stroke machine, but it will be even quieter.

Does the machine vibrate less than a two stroke PPG?
Yes. The 3-phase brushless motor runs extremely smoothly. With a well balance prop there is virtually no vibration. It is very pleasant to fly.

Is there any maintenance?
NO! The finished product will have a brushless direct drive. Just plug it in and fly...

How heavy is the motor?
1.5 kg

What power does it generate?
17HP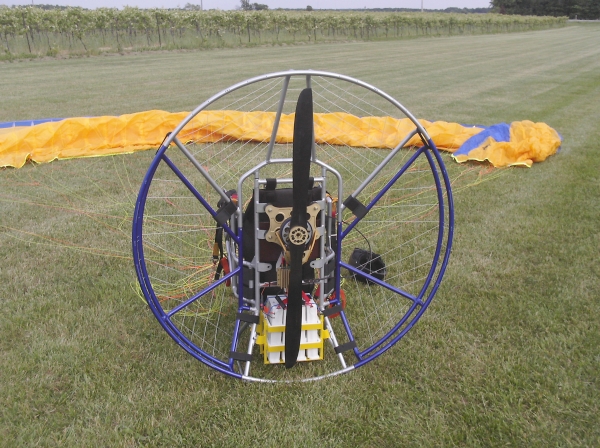 How much will it cost to run?
A full charge should cost around 50 cents!

How much does it weigh?
The prototype weighs 22kg. This will change, and we will be able to produce specialist lightweight training PPGs suitable for getting students in the air without having to bear the full weight of a machine.

How long does it take to fully charge the battery?
Two and a half hours, but with a custom built charger this time will be slashed in half (or more).

How many times can the batteries be charged and discharged?
After 1600 charge/discharge cycles the battery will lose 7% efficiency, so the answer is lots!

What is the expected retail cost of the unit?
A reasonable estimate is for a machine that would retail at about $5500 US.

How safe are those LiPo batteries, I have heard they can explode?
They are extremely safe in the configuration in which they are being used. The biggest hazard would be if they were not charged with an appropriate charger. We are using a custom charger with safety cut outs that prevent overcharging. We are in talks with manufacturers to design safe fast chargers for the machines.

Can it be transported by air?
YES

Can you run the batteries down flat?
The Lipo batteries are renderred useless if completely run down. The speed controller limits the use of the battery when the voltage drops below a critical threshold. The prop spins intermitantly to indicate that you are almost out of power, then it cuts out.

How long has this prototype been in development?
8-9 months

What do you see as the main advantages to an electric paramotor?
No maintenance-hassle free

Always starts regardless of altitude or temperature.

Requires no warming up

Quieter

Cheaper to run

Where can I buy one?
They are not in production yet, but they will be ready for a commercial release in the spring of 2007. I`ll keep you posted!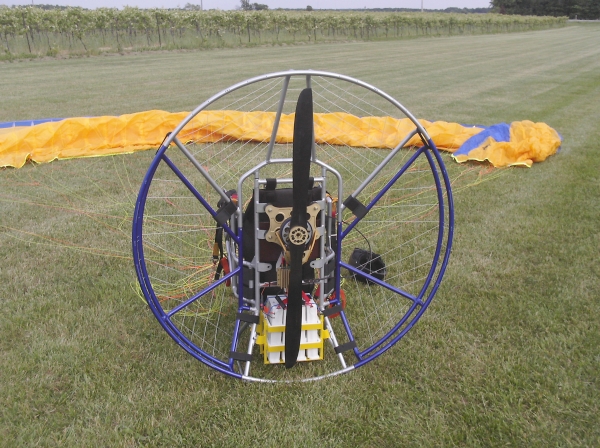 (Back to top) OR - - View the entire paragliding and powered paragliding news archive
The content of this site is © Mark Andrews 2005-12, mandrews1973@gmail.com