Something funny is going on with the weather these days. It is the middle of November and it is still pretty warm. Andre e-mailed me on Friday night to see if I wanted to join him at the field for a flight on Saturday. He would be training Reg, the oyster farmer from out west. He also told me that Ian would be trying his first trike take off if the wind was light enough.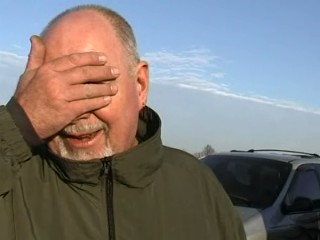 Video



The forecast was for some wind during the day building up to a a gale by the evening!

Andre stopped by at 7:30 am and we headed off to the field (via Tim Horton`s, for a coffee and bagel). When we got there we saw that Ian and Reg ready and waiting. The wind sock was already up and it was clearly showing a strong breaze.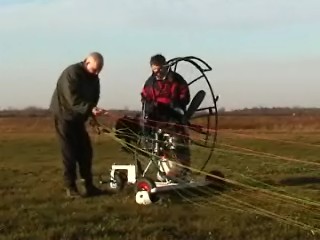 Ian sets up the trike, ready for Andre.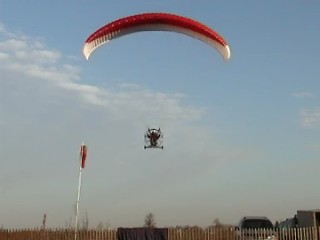 Andre takes it for a test flight and gets rather close to the trailer



It was pretty windy. It was clear that Ian would not be able to do his first solo today. It was far too windy. Reg carried on with his ground handling though. He performed a rather nice `turtle`, very amusing.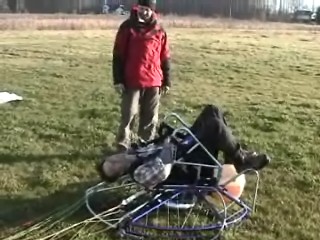 Reg performd `the turtle`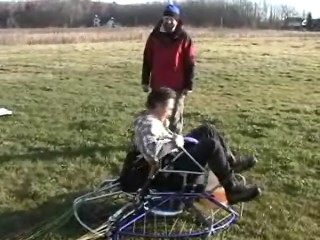 There is only one way out!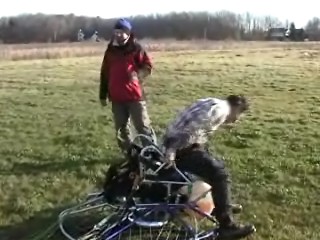 Nice one Reg!



Andre decided to try another launch. This time he was using his own machine. He soon found there was a problem; every time he started the machine it would run for a while and then stop. This happened three times, so it was time to takea closer look.

The primer bulb was completely deflated. It seemed there was a vacuum preventing any fuel from reaching the engine. After some investigation it turned out that the primer bulb was just fine. The fuel line itself was blocked. There was a small bit of silicone rubber wedged in the fuel line. It must have fallen in the fuel tank when Andre was fixing the seal. A quick poke with a bit of old coat hanger and Andre was ready to go again.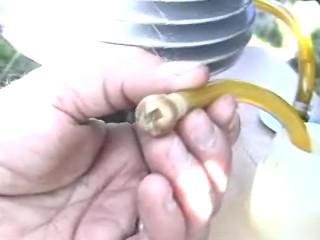 Silicone rubber blocks the fuel line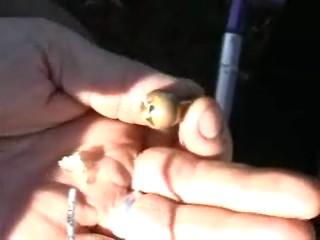 This is a job for the trusty coat hanger!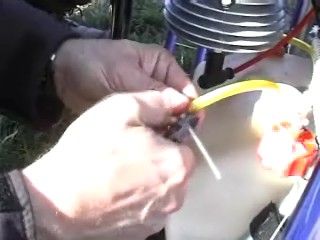 Once replaced the motor runs fine



Andre flew for a bit, but was getting rather close to his trailer and the fence; he decided to land reporting that the air was a bit bumpy. He offered me the chance of a quick flight. Naturally I accepted! I strapped in and took off, flying low and very slow up the airfield. It took ages to reach the other end, but once there I was able to climb high enough to performa quick spiral dive before drifting back to where I had launched. Once down it was tricky to control the wing. I like challenging conditions so after a quick break I went up for another go, but this time I was barely making any forward speed. I decided to quit while I was ahead and we got the kite out.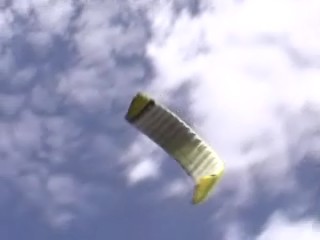 Andre`s new kite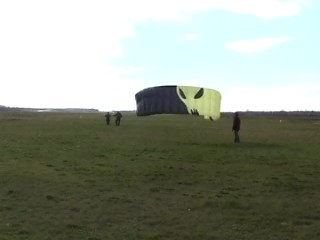 It looks like a halloween special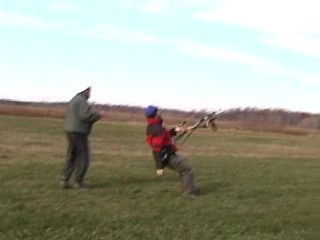 Andre wrestling `the beast`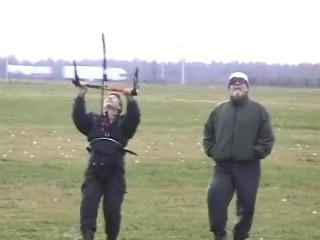 Reg has a go



We were packed up by noon. It is nice to still be able to get outside in November. The snow will be here soon enough...