Saturday started early – 7:30am. Ground school was booked for three students in the morning. Unfortunately, Joe`s wife was sick so he was unable to come, so only one student was able to make it.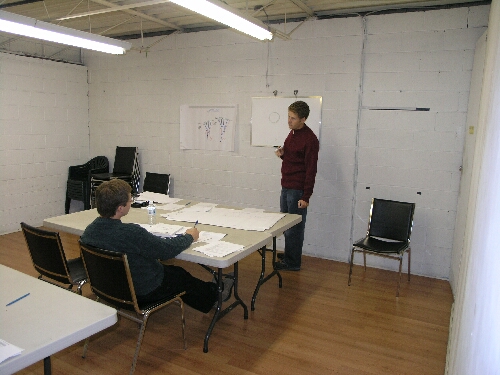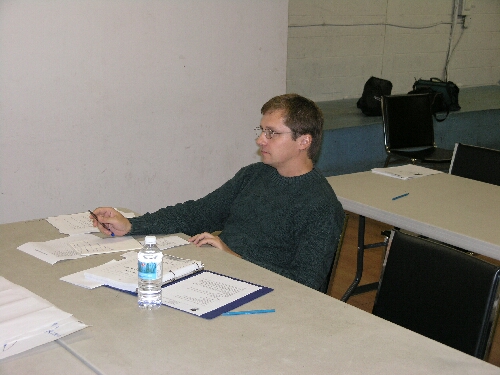 Zbysek, originally from Poland, had wanted to learn to fly since he was fifteen, and finally had the time and the money to do it. We spent the ground school going over the basic theory of flight, safety considerations – preflight checks etc, before getting into the `simulator`.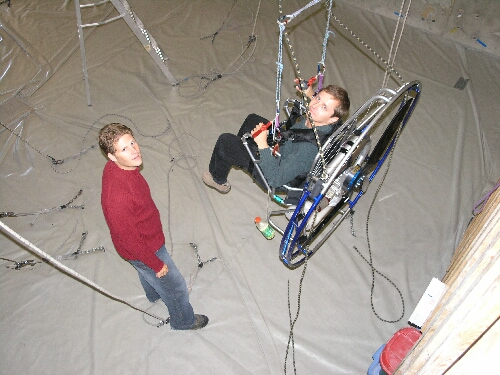 After we had gone through take off and landing approaches, we looked at weather forecasts. Once ground school was complete we headed off to Sodom Road. The wind was pretty strong. Serge, another student, was busy ground handling when we arrived. He was managing very well in the high winds. It was too windy to allow a day one student to use a regular paraglider so we started with the training wing, a smaller version that is intended to be used for training only.

Eventually the wind died down enough that we were able to use a regular wing. Zbysek was finding the control of the wing tricky. Despite knowing what his mistakes were, he was finding it very difficult to control the wing with the in reverse inflations. He did not quite have a feel for the wing yet. Towards the early afternoon, Ed Russell was getting his vintage warplanes out so we moved to Biedas,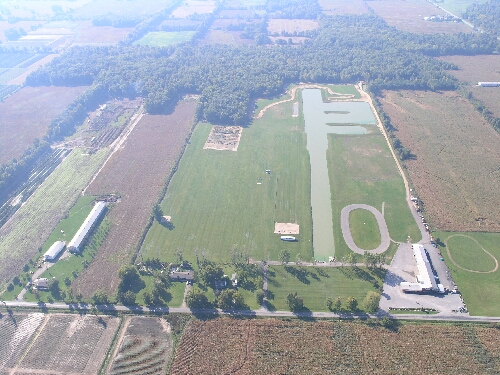 our other training location. We hadn`t been there for a while. Barney and Serge got themselves set up, but the wind was a little strong still. Henry was soon over to see what we were up to and watched a couple of take offs. Andre and I jumped in his 4 x 4 and headed off to see his cabin, what a beauty, all made from scratch. The ride back through the woods was fun, especially when he decided to take us for a trip over the dirt bike track, crazy. Thanks Henry!

We then waited until conditions were suitable to get Barney and Serge in the air. Barney was up first and had a good flight. The landing is a little trickier at Biedas since we are spoiled with an enormous field at Sodom Road, whereas, Biedas is surrounded by some tall trees. Barney made a good approach and managed to land on his feet.

Serge was struggling to get airborne as by now the wind had dropped right off and conditions were very difficult. The hangpoints on his machine also make it a very different technique for launch. Andre launched with Serge`s machine to demonstrate the technique that would be needed, unfortunately Serge did not fly, but he was determined to get in the air and arranged to meet us at 8:30am on Sunday.

Arthur flies by his balls! (Sunday)

Andre dropped by at 8am to pick me up and we headed out towards Biedas. On the way we stopped off at Tim Horton`s to grab some breakfast and then over to CIBC drive through to make some deposits. As we approached the drive through we heard a loud clanking sound! Andre had forgotten he had the trikes on the roof of the trailer as we went under the height restriction sign. Luckily we had cleared the bar by less than half an inch and had simply hit the hanging sign underneath!

When we arrived at the field it was a little misty and the grass was wet with dew. There was not a stitch of wind and it was clear that we would not be launching Serge for a while. This gave Andre and I the opportunity for an early morning XC flight towards Lake Erie. We took the opportunity to test out the newest helmets that Andre had just purchased.




These should make our cross-country flights even more enjoyable since they are custom built for this purpose. The take off was tricky and required a power forward launch since the wings were wet from the dew. We set off towards the lake. The air was as smooth as silk and the light was fantastic. The visibility was very good and we could see Buffalo (the town, not the animals!) in the distance. With the new radio helmets working nicely, we were able to chat throughout the whole flight. This made it possible to set up some nice photos. I managed to get some cracking shots of Andre and our two shadows low over open farmland and some other great shots over the river. We headed back after about half an hour and got some more photos of Biedas field for Henry.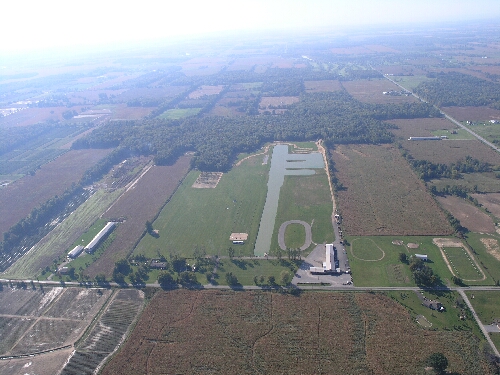 Serge was waiting patiently with everything set up and ready to go. The grass was almost dry now and we prepared to get Serge in the air. Serge had previously trained with us before trying to teach himself for a while. Eighteen months, two wings and a busted prop later, he decided to get proper instruction again. I guess, it`s harder than it looks! Anyway, we got Serge in the air and he flew around the field





When he came down he was beaming, having finally realized his dream of flight. From here on it will only get better, as Serge builds his confidence and gets those launches polished. Well done Serge!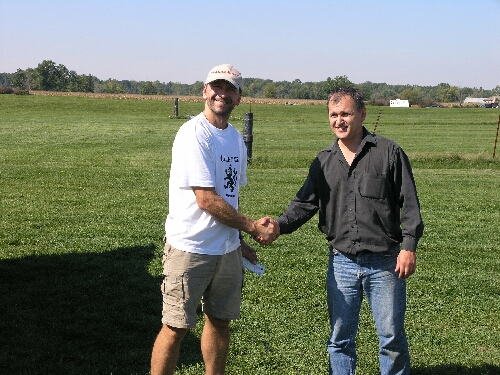 With a four hour drive ahead of him Serge was keen to make tracks. This left Andre and I with some time on our hands before the next student arrived. With perfect conditions, we went for the second cross country flight of the day. We took the new helmets once again. This time Andre had the digital camera. We were able to set up some more great `air to air` shots. Andre snapped a few as I was doing wing-overs and later we climbed several thousand feet with Andre above me before I pulled a steep spiral dive. This was turning out to be a great day, and there was still plenty left of it.

We headed back to Biedas, arriving just before Zbysek. There was not much wind so we moved on to the forward launch technique. Zbysek had it on the third attempt. He found it much easier than a reverse launch, which is unusual, since most people find it harder. In the heat of the day we were getting very dehydrated so we stopped for a break.

I helped Andre launch the tandem trike with a passenger from Toronto. The take off was really smooth and they were soon off for a flight. Unfortunately they had to return a little prematurely, Andre was concerned that the engine was not running quite right.

After repeating around ten forward launches it was time to for Zbysek to fly. We strapped him into the single seater trike. Within a couple of attempts he was up and flying. The flight was good but the landing was cross wind. There is a lot to remember when making your first flight and Zbysek did a really good job. He had flown solo on day two, not bad!

Next up was Arthur. He has a machine with high hangpoints and a harness that seems to be designed by some sort of masochist! I have flown his machine and getting into the harness is next to impossible. As soon as it lift off the ground you are suspended by your testicles! Anyway Arthur seems to enjoy this! The Polish instructions that came with the machine are not much help. According to Arthur, the useful advice they offer is `hang and adjust the harness as necessary`. Anyway after an unsuccessful take off attempt, Arthur was soon flying by his balls. It must have been liking it `cos he was up for some time. I only wish I had taken some pictures.

By this time it was getting late, we had put in two full days of training and everyone was ready to call it quits. We got all the kit together and set off for home. Two first solos and a first tandem flight.

I hope this Indian summer lasts a bit longer.